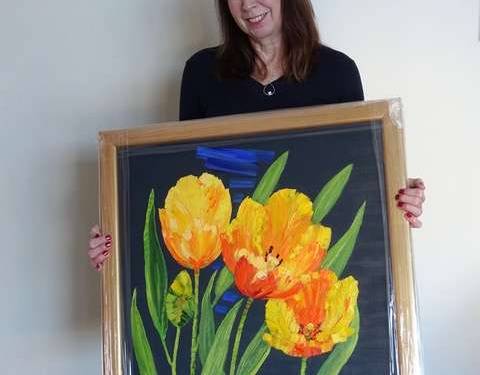 Where To See My Art
My ORIGINAL PAINTINGS are regularly exhibited in the following art galleries:
GLASGOW:
THE ANNAN GALLERY 164 Woodlands Road, Glasgow G3 6LL: THE THISTLE GALLERY, Park Rd.Glasgow G4 9JF;
THE GLASGOW GALLERY, 182 Bath St, Glasgow G2 4HG
SCOTLANDART GALLERY, 193 Bath Street, Glasgow, G2 4HU
THE SOUTHSIDE GALLERY, 28 Battlefield Rd, Glasgow G42 9QH
EDINBURGH:
ALPHA ART, 52 Hamilton Place, Stockbridge Edinburgh EH3 5AX;

THE MORNINGSIDE GALLERY, 94 Edinburgh EH10 4BY
CRIEFF:THE STRATHEARN GALLERY, 32 W High St, Crieff DH7 4DL
ISLE OF ARRAN:THE ARRAN GALLERY, WHITING BAY KA29 8QH
BOTHWELL: SCOTLAND ARTISTS, 7 Main St Bothwell, G71 8RB
KIRKCUDBRIGHT: The Whitehouse Gallery, 47 St Mary's Place, Kirkcudbright DG6 4DU
CAMBRIDGE: THE DARRYL NANTAIS GALLERY, Linton, Cambridge CB21 4HS.
LINTON59 is the travelling name for the Darryl Nantais Gallery. Linton59 takes my work to many of the prestigious art fairs around the UK.
ART FAIRS IN 2018 Sheila Fowler Art - exhibited at
The CHELTENHAM ART FAIR - with LINTON59
The GLASGOW ART FAIR - with ALPHA ART
AAF HAMPSTEAD - with LINTON59
The CAMBRIDGE ART FAIR - with LINTON59
The EDINBURGH ART FAIR - with LINTON59
STUDIO VISITS: I work from my small studio in Giffnock, on the south side of Glasgow. Please contact me if you would like to visit.